National Retail Properties Inc. (NYSE: NNN) continues to deliver for shareholders, adhering to a business strategy that has enabled the company to provide annual dividend increases for 29 consecutive years. The company maintains both a strong, flexible balance sheet and a diversified portfolio focused on single tenant retail properties operated by strong national and regional retailers in thirty-seven lines of trade.
Nearly 3,000 single-tenant retail properties across the continental United States
Invested $715.6 million in 265 properties in 2018
One of only three equity REITs and 86 publicly traded companies in America to have increased annual dividends for 29 or more consecutive years
---


Steel Partners Holdings (NYSE: SPLPPRA) is a diversified global holding company that owns and operates businesses in three principal sectors: Diversified Industrial Products, Energy Services, and Financial Services. The company also holds significant interests in four publicly traded companies: Aerojet Rocketdyne (5.3%); Aviat Networks (12.5%); Babcock & Wilcox (17.8%); and Steel Connect (45.9%).
Steel Partners Preferred units currently have a remaining term of approximately seven years, a $25 liquidation value, and provide quarterly cash flow with a 20% redemption in 2020 and the remainder in 2026. The current yield to maturity is approximately 9%. The company's common units trade on the New York Stock Exchange under symbol SPLP.
Management ownership of Preferred units: 12%; management ownership of Common 
units: 54%

Strong free cash flow and balance sheet, with total cash and investments of $335 million as of September 30, 2018

2017 revenue of $1.4 billion; 2018 reported guidance of $1.5–$1.6 billion
2017 adjusted EBITDA of $164 million; 2018 reported guidance of $180–$188 million
4,800 employees and 75 locations across 8 countries as of December 31, 2017
Culture of continuous improvement and implementing lean manufacturing tools
---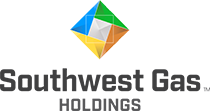 Southwest Gas Holdings, Inc. (NYSE: SWX), through its subsidiaries, engages in the business of purchasing, distributing, and transporting natural gas, and providing construction services across North America. Southwest Gas Corporation ("Southwest"), a wholly owned subsidiary, safely and reliably delivers natural gas to nearly two million commercial and residential customers in Arizona, California, and Nevada. Centuri Construction Group, Inc. ("Centuri"), majority-owned subsidiary, provides construction and maintenance services throughout the United States and Canada.
Dividend growth of approximately 9.5% for the last five years ended March 31, 2018
Total annualized shareholder return of 12.4% for the 10-year period ended March 31, 2018
1.6% customer growth for the 12-month period ended March 31, 2018 (Southwest)
Two million customers served (Southwest)
2018–2020 capital expenditures estimated at $2 billion (Southwest)
Projecting 12% annual rate base growth from 2018 to 2020 (Southwest)
One of North America's largest providers of utility and energy construction services (Centuri)
Continued growing trend with record financial results in 2017 (Centuri)
---


Over more than 130 years, Aqua America (NYSE: WTR) has grown to become a leader in the water and wastewater utility industry, serving more than three million people across eight states. With the acquisition of the Pittsburgh-based natural gas distribution company, Peoples, Aqua is building on its expertise in infrastructure investment, regulatory compliance and operational excellence with a new platform for growth. With complementary service territories focused primarily in Pennsylvania and a long history of service to their communities as regulated utilities, the two companies are a strong fit that will provide many compelling opportunities for growth and investment. The Peoples acquisition puts Aqua in a strong position to continue to deliver shareholder value while also serving the company's mission of improving the lives of customers through investing in infrastructure for safe and reliable service.
Acquisition of Peoples natural gas utility adds more than 740,000 customers and increases rate base by nearly 50%
Delivered 73 consecutive years of dividend payments and 28 dividend increases in the last 27 years
Plans to invest more than $500 million in improving water and wastewater infrastructure in 2018 
Resulting company will be approximately 70% water and 30% gas and maintain strong municipal water and wastewater acquisition strategy
---


Providing midstream energy services to producers across the United States, Enterprise Products Partners L.P. (NYSE: EPD) holds assets including ~50,000 miles of natural gas, natural gas liquids (NGLs), crude oil, refined products, and petrochemical pipelines; storage facilities accommodating 260 million barrels of NGLs, refined products, and crude oil; 28 natural gas processing plants; 23 propylene fractionators; and import/export terminals with an offloading capacity of 14,000 barrels per hour and a loading capacity of 27,500 barrels per hour. For more information, visit www.enterpriseproducts.com.
More than $56 billion in assets
A market capitalization more than $60 billion
$38 billion in organic growth projects and $26 billion in major acquisitions since the company's IPO in 1998 through 2017
$400 million in growth capital projects completed so far in 2018
---


1-800-FLOWERS.COM, Inc. (NASDAQ: FLWS) is a leading provider of gifts for all celebratory occasions. The company's focus on customer experience as its "number one product" has enabled it to become its customers' go-to destination for gifting solutions across e-commerce, mobile, and social-commerce channels. In addition, its commitment to investing and innovating to enhance customer engagement has placed the company at the forefront of the fast-growing "conversational commerce" space, which leverages "big data" and artificial intelligence (AI) technology. The 1-800-FLOWERS.COM, Inc. family of brands includes Harry & David®, The Popcorn Factory®, Cheryl's Cookies®, 1-800-Baskets.com®, Wolferman's®, Moose Munch®, Personalization Universe®, Simply ChocolateSM, Stock Yards® and FruitBouquets.comSM.
Annual revenues exceeding $1.1 billion
Strong balance sheet and growing free cash flow
Broad and leverageable operating platform
An experienced management team aligned with shareholders
---
Find more investment opportunities from the Featured Companies menu above.