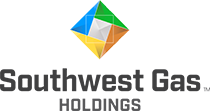 Southwest Gas Holdings, Inc. (NYSE:SWX), through its subsidiaries, engages in the business of purchasing, distributing, and transporting natural gas, and providing construction services across North America. Southwest Gas Corporation ("Southwest"), a wholly owned subsidiary, safely and reliably delivers natural gas to nearly two million commercial and residential customers in Arizona, California, and Nevada. Centuri Construction Group, Inc. ("Centuri"), majority-owned subsidiary, provides construction and maintenance services throughout the United States and Canada.
Dividend growth: approximately 11% for the last five years ended March 31, 2017
Total shareholder return: 29% for the twelve months ended March 31, 2017
1.5% customer growth for the twelve months ended March 31, 2017 (Southwest)
Serving nearly two million customers (Southwest)
2017–2019 capital expenditures estimated at $1.6–1.8 billion (Southwest)
One of North America's largest providers of utility and energy construction services (Centuri)
Celebrating 50 years of continued customer service (Centuri)
Continued growing trend with record financial results in 2016 (Centuri)
---


Brixmor Property Group (BRX:NYSE) is an open-air retail landlord operating on a national platform, with properties in New York, Chicago, Houston, Los Angeles, and other key markets. By partnering with high-visibility and well-respected retailers such as Kroger, TJX Companies, and Publix, Brixmor seeks to maximize productivity by focusing on local customer demand, thereby increasing foot traffic for its tenants, building a solid foundation for success, and creating a compelling value proposition for investors. 
The second-largest open-air retail landlord in the United States
More than 500 properties in a geographically diversified portfolio
A self-funded reinvestment pipeline with yields of ~10% 
~5,600 national, regional, and local tenants 
---


CVS Health Corporation (NYSE:CVS) is a pharmacy innovation company helping people, businesses, and communities manage health in more affordable, effective ways. The integrated CVS Health model increases access to quality care, delivers better health outcomes, and lowers overall healthcare costs.
Ranked #7 on the 2016 Fortune 500 list
Fourteen consecutive years of dividend increases
The largest pharmacy in the United States based on total prescription revenue
2.3 billion adjusted prescriptions filled or managed annually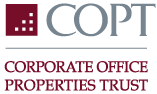 Corporate Office Properties Trust (COPT) (NYSE: OFC) is an office REIT headquartered in Columbia, Maryland, which is equidistant between Baltimore and Washington, DC. As of December 31, 2016, COPT's core portfolio of 152 office properties encompassed 16.3 million square feet and was 94.4% leased.
Positive outlook for defense spending in the United States supports expectations for increased demand for COPT's unique locations and, by extension, attractive cash flow growth
Ownership and control of the most relevant land locations limits competition for other landlords and is a significant competitive advantage
A five-year development track record of delivering approximately 800,000 square feet annually that have been 90% leased, on average
An attractive and secure quarterly dividend of $0.275/share represents a 3.8% yield and a 1.4 percentage point premium to the 2.4% yield from 10-year US Treasuries
An investment grade-rated balance sheet supports future growth through development, and ensures dividend safety
---


LTC Properties Inc. (NYSE:LTC) is a California-based real estate investment trust that invests in seniors housing and health care properties, targeting the growing market of aging baby boomers. The company primarily invests in properties through sale-leaseback transactions, mortgage financing, and structured finance solutions. LTC's experienced management team is dedicated to generating a diversified portfolio through a disciplined investment approach.
219 investments across 30 states

Strong year-over-year revenue growth of approximately 19%

Annual dividend growth of approximately 77% since 2005

A conservative balance sheet with significant liquidity and minimal debt maturities
---


1-800-FLOWERS.COM, Inc. (FLWS:NASDAQ) has created a multibrand platform of gifting options for customers, integrating gourmet food and gift baskets and other products into its offerings, as well as continuing to grow its flagship consumer floral marketplace.
A gift industry leader with revenues of $1.17 billion in fiscal 2016
Three key business segments: Gourmet Food & Gift Baskets, Consumer Floral, and
BloomNet Wire Service
Strong balance sheet; strong free cash flow
A multibrand website that enhances customer behavior metrics, including increased retention,
frequency, and lifetime value
A proven ability to leverage the business platform to reduce operating expenses (opex)
Find more investment opportunities from the Featured Companies menu above.