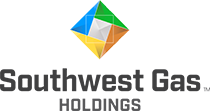 Southwest Gas Holdings, Inc. (NYSE: SWX),through its subsidiaries, engages in the business of purchasing, distributing, and transporting natural gas, and providing construction services across North America. Southwest Gas Corporation ("Southwest"), a wholly owned subsidiary, safely and reliably delivers natural gas to nearly two million commercial and residential customers in Arizona, California, and Nevada. Centuri Construction Group, Inc. ("Centuri"), majority-owned subsidiary, provides construction and maintenance services throughout the United States and Canada.
Dividend growth of approximately 9.5% for the last five years ended March 31, 2018
Total annualized shareholder return of 12.4% for the 10-year period ended March 31, 2018
1.6% customer growth for the 12-month period ended March 31, 2018 (Southwest)
Two million customers served (Southwest)
2018–2020 capital expenditures estimated at $2 billion (Southwest)
Projecting 12% annual rate base growth from 2018 to 2020 (Southwest)
One of North America's largest providers of utility and energy construction services (Centuri)
Continued growing trend with record financial results in 2017 (Centuri)
---


National Retail Properties Inc. (NYSE: NNN) attributes its remarkable record of stability and shareholder return to portfolio diversity and the long-term relationships it maintains with more than 400 major national and regional retailers housed in single tenant retail properties on a triple net lease basis. This strategy has resulted in annual dividend increases for 28 consecutive years.
Nearly 2,800 single-tenant retail properties across forty-eight states
276 properties acquired in 2017
A portfolio average of 98% occupancy over fifteen years
8% average annual core FFO growth per share over the past six years
---


Brixmor Property Group (NYSE: BRX), an open-air retail landlord partnered with nationally recognized, locally relevant brand-name merchants, restaurants, and grocers, is focused on attracting anchor clients that increase foot traffic for all tenants. Big-name retailers housed on Brixmor properties from California to Denver to Florida include Trader Joe's, Publix, Nordstrom Rack, LA Fitness, Kroger, and more. By continuing to execute on its proven platform of securing both the best real estate and the most productive leases, Brixmor is also able to provide solid returns for its investors.
One of the largest open-air retail landlords in the United States
More than 475 retail centers comprising 83 million square feet
A self-funded reinvestment pipeline with yields of ~10%
200+ national open-air retailers with plans to open over 13,500 new stores
More than 8.1 million square feet of new and renewal leases signed in 2017
---


1-800-FLOWERS.COM, Inc. (FLWS:NASDAQ) is a leading provider of gifts for all celebratory occasions. The company's focus on customer experience as its "number one product" has enabled it to become its customers' go-to destination for gifting solutions across e-commerce, mobile, and social-commerce channels. In addition, its commitment to investing and innovating to enhance customer engagement has placed the company at the forefront of the fast-growing "conversational commerce" space, which leverages "big data" and artificial intelligence (AI) technology. The 1-800-FLOWERS.COM, Inc. family of brands includes Harry & David®, The Popcorn Factory®, Cheryl's Cookies®, 1-800-Baskets.com®, Wolferman's®, Moose Munch®, Personalization Universe®, Simply ChocolateSM, Stock Yards® and FruitBouquets.comSM.
Annual revenues exceeding $1.1 billion
Strong balance sheet and growing free cash flow
Broad and leverageable operating platform
An experienced management team aligned with shareholders
---


LTC Properties Inc. (NYSE: LTC), a real estate investment trust focused on acquiring seniors housing and health care properties in major metropolitan markets, has crafted a diversified portfolio of well-structured leases and mortgages from coast to coast. The company's experienced management team continues to build on its portfolio, employing a disciplined approach toward investment and a sound underwriting strategy.
Operates more than 200 properties in 29 states with 30 operating partners
The only publicly traded health care REIT that pays a monthly dividend
Since 2007, LTC has grown its annual dividend from $1.50 to $2.28 per share
Over the five‐year period ended March 5, 2018, stock return was 23.4%
Year‐over‐year revenue growth of 4% for the twelve months ended December 2017
---


For more than a century, Aqua America (NYSE: WTR) has delivered quality water service to communities throughout the United States, with the mission of "protecting and providing Earth's most essential resource." Now the second largest water utility in the nation, the company serves three million people in eight states, and is committed to providing excellent customer care, bringing value to shareholders year over year, and upgrading and consolidating water and wastewater infrastructure throughout America.
Operates and maintains 20 water treatment plants, 3,000 wells, and nearly 1,500 public water systems
Operates and maintains more than 12,000 miles of water and sewer mains
Has delivered 72 consecutive years of shareholder dividends
Has posted a shareholder return of more than 35 percent since 2015
Has made more than 300 acquisitions since 1995
---
Find more investment opportunities from the Featured Companies menu above.