FEATURED COMPANY: ENERGY


Doing Energy Better
With more than 4.5 million customers and approximately 46,000 megawatts of generating capacity, Atlanta-based Southern Company (NYSE: SO) is the premier energy company serving the Southeast through its subsidiaries. A leading U.S. producer of clean, safe, reliable and affordable electricity, Southern Company owns electric utilities in four states – Alabama, Florida, Georgia and Mississippi – and a growing competitive generation company, as well as fiber optics and wireless communications. Southern Company brands are known for excellent customer service, high reliability and affordable prices that are below the national average. Through an industry-leading commitment to innovation, Southern Company and its subsidiaries are inventing America's energy future by developing the full portfolio of energy resources, including nuclear, 21st century coal, natural gas, renewables and energy efficiency, and creating new products and services for the benefit of customers. Southern Company has been named by the U.S. Department of Defense and G.I. Jobs magazine as a top military employer, listed by Black Enterprise magazine as one of the 40 Best Companies for Diversity and designated a 2014 Top Employer for Hispanics by Hispanic Network. The company earned the 2014 National Award of Nuclear Science and History from the National Atomic Museum Foundation for its leadership and commitment to nuclear development, and is continually ranked among the top utilities in Fortune's annual World's Most Admired Electric and Gas Utility rankings.
Serving 4.5 million customers
Only U.S. electric utility company developing the full portfolio of energy resources
Customer-focused business model
Inventive, innovative culture
Solid long-term financial results
Southern Company's Corporate Fact Sheet
Click here for more information about Southern Company
Advisor Access spoke with Chairman, President and CEO Thomas A. Fanning about how Southern Company is inventing the future of energy while continuing to execute the customer-focused fundamentals that have delivered solid results for more than a century.
---
The Advisor Access Interview
Advisor Access: Describe Southern Company's core business and strategy.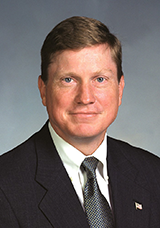 Thomas A. Fanning: We're in the business of providing clean, safe, reliable and affordable energy for the benefit of the customers and communities we're privileged to serve. We make, move and sell electricity, and we are really good at it. Those are the "whats" of our business. But we are also focused on the "hows" – the ways we interact with people, the ways we make communities better off because we're there. I would argue that the "hows" are what define Southern Company.
We have a long history of being innovative to provide solutions that make lives better. And we are committed to strengthen our inventive culture.
AA: What does that mean for investors?
TAF: It has been a successful formula for regular, predictable, sustainable results, and that's our goal. In fact, we have declared a dividend for 272 consecutive quarters — that's every quarter going back to 1948. And we have increased our dividend 14 straight years. I always say that value is a function of risk and return. Our long-term performance bears this out. Bloomberg charted our common stock over the past 20 years, and found that a $1,000 investment in Southern Company would have grown to $10,855, assuming that all dividends were reinvested. Compare that with $6,547 for the Standard & Poor's 500 Index and $6,446 for the Philadelphia Electric Utility Index. In terms of total shareholder return, we outperformed S&P 500 for the 10-, 20- and 30-year periods ended Dec. 31, 2014. With an ongoing commitment to our customer-focused business model, we believe we are positioned for continued success.
AA: Southern Company bills itself as the only electric utility developing the full portfolio of energy resources — why is that important?
TAF: The full portfolio — nuclear, 21st century coal, natural gas, renewables and energy efficiency – enables us to offer customers the best combination of clean, safe, reliable and affordable energy at any given time. It provides the optionality to adapt as necessary to variations in price or availability. We can, and should, make use of the blessings of natural resources that this nation has to provide an unassailable way for America to play offense. Some people say this is an "all of the above" approach. Whatever, you call it, it's a way to be energy secure. And the only company doing it all is Southern Company.
AA: One notable part of that full portfolio is nuclear; you're making a big bet on nuclear.
TAF: Nuclear has got to be a dominant solution for America. It is emissions-free, safe and uses a low-cost, abundant resource. In fact, about 63% of America's emissions-free energy today is nuclear. We need more nuclear, and Southern Company is proud to be leading America's nuclear renaissance by building, through our Georgia Power subsidiary at Plant Vogtle, two of the first new nuclear units in a generation. When complete, these units will provide enough power for a half-million homes and businesses. It's important to note that not every company can build nuclear generation. It takes scale, operational credibility and financial integrity. Southern Company has all that.
AA: Coal continues to have a place in your portfolio; can you discuss the role of coal going forward?
TAF: Coal continues to be an important part of the full portfolio. It is a proven, reliable energy resource and the country has a lot of it — more than 250 years of recoverable reserves right here in America, according to the Energy Information Administration. Now it is well-known that the use of coal is being pressured by environmental regulations and also by the declining price of natural gas. But it still accounts for over a third of the nation's energy mix. We've got to find ways to keep coal viable. Our Mississippi Power subsidiary is building a plant, using a technology we helped develop, that under the right conditions provides a way forward for coal. This technology is called TRIG, and it converts locally-mined lignite, which otherwise would go unused, into a synthesis gas that is used to generate electricity. It's designed to capture 65% of the carbon dioxide emissions, which then can be used in a process called enhanced oil recovery. So the CO2 is no longer a waste stream; it's helping to strengthen our energy security. It's good for customers, good for the economy and good for the environment.
AA: Some people might be surprised to see how much Southern Company is into renewables.
TAF: We are very supportive of renewables as part of the full portfolio, and frankly we are among the nation's leaders in developing renewable energy. Across the Southern Company system, we have added or announced more than 3,600 megawatts of renewable energy projects since 2012. That includes solar and wind facilities in six states, and the nation's largest voluntary solar program through our Georgia Power subsidiary. Georgia Power, by the way, has been named by the Solar Electric Power Association as the Investor-Owned Utility of the Year. The Southern Company system also serves as the only electric utility in the nation to partner with the U.S. military to develop renewable energy projects on-base. All this activity reflects our belief that renewables are important as part of a balanced mix that still requires traditional base load fuels as well.
AA: What is the current economic picture in the Southeast and how is it impacting your growth outlook?
TAF: The Southeastern economy continues to grow. We've seen robust employment growth, a steady recovery in the housing sector, stronger-than-expected consumer spending and continued in-migration to our region. As a result, we experienced positive growth in retail sales in the third quarter, as total weather-adjusted retail sales increased 0.2% over the third quarter of 2014, and 0.6% on a year-to-date basis. A notable indicator of the economy's health is in the residential sector, where customer growth is approaching historical norms for the first time since the recession. For the first nine months of 2015, nearly 28,000 residential customers were added across the Southern Company system. Also, our economic development pipeline remains robust and on a positive long-term trajectory. More than 12,000 new jobs have been announced in our service region through the third quarter this year. That's an increase of more than 250% compared with the first nine months of 2014.
AA: Like many industries, yours is experiencing changing customer expectations driven by new technologies. What is Southern Company doing to succeed in this evolving environment?
TAF: We're committed to finding solutions through energy innovation that give us new opportunities to help the families and businesses we're privileged to serve. It's about more than new products; it's a mindset to improve the lives of everyone we serve. Our customers are looking for solutions and they want a partner who can make their quality of life better. We just opened our Energy Innovation Center in Atlanta. This new center complements the daily commitment all of our employees have to innovation, and will serve as an incubator for better, more reliable and more efficient ways to deliver energy.
But innovation isn't just the responsibility of one person or a small group of people. In fact, some of the first concepts to be tested will be from Southern Company system employees, who submitted more than 1,000 new ideas in a recent, company-wide innovation competition that aimed to address future energy challenges. These new ideas are the perfect complement to the nearly $2 billion in research and development the Southern Company system has managed over several decades, helping to improve the ways we produce and deliver electricity to customers.
Throughout the Southern Company system, employees understand what customers want; they serve them every day. Employee ideas will help deploy a new generation of power delivery technologies so we can continue to offer the reliability, measurable results and quality service that our customers deserve. In addition, we are collaborating with forward-looking companies like Tesla, Google and Nest to identify the best technologies from other industries and deliver them to our customers.
AA: What is the impact of the Clean Power Plan and other recent federal environmental regulations?
TAF: We are opposed to the Environmental Protection Agency's Clean Power Plan. After thorough review of the final rules, it is clear that it will fundamentally change the ways our nation makes, moves and consumes electricity while increasing electricity costs to hard-working American families. These flawed EPA mandates underscore the fact that national energy policy should be set by Congress and the states, which have the ability to balance the responsibility to provide customers clean, safe, reliable and affordable power. As we continue to evaluate potential compliance options, we will remain engaged with our states to ensure that we continue acting in the best interests of customers.
AA: There are clearly big challenges as well as opportunities facing your business; are you optimistic about the future?
TAF: I'm excited about the future. I'm excited by all the ways that energy makes lives better. We are continuing to transform our business to benefit customers in ways we couldn't have imagined just a few years ago, while never losing sight of our basic commitment to provide clean, safe, reliable, affordable energy. Our efforts to become more innovative are focused squarely on better serving customers and providing more choices. Our proposed merger with AGL Resources is another example of how we are taking action to invent America's energy future. It is designed to bring together two companies that each have a commitment to continuous improvement, outstanding service and innovative solutions. Innovation to benefit customers is in Southern Company's DNA. We've been doing that for over a century. New technologies combined with a real commitment to finding solutions through energy innovation give us new opportunities to serve customers. That's who energy innovation is for. We have so many ways to create real value for everyone our business touches. So, yes, I am very optimistic.
AA: Thank you, Thomas.
Analyst Commentary
"SO continues to have success on the renewable development front and expects to surpass prior capital investment targets for both 2015 and 2016. Mgmt now expects to invest roughly $2.3B at Southern Power this year and could invest a similar level next year. As a result, SO is now anticipating ITC related income of $55M in 2015 vs. $40M originally."

—Jonathan Arnold, Deutsche Bank
Oct. 29, 2015

"On the positive side, SO is encouraged by the results of recent testing of the first of two gasifiers at Kemper. SO is also moving forward on Vogtle Nuclear Units 3 and 4, with completion expected in 2Q19 and 2Q20, respectively. It recently reached a settlement agreement of all outstanding litigation."

—Michael Worms, BMO Capital Markets
Oct. 29, 2015

"Utilities remain on track this year; Southeast economy supports residential and commercial growth, industrial still worth monitoring. SO pointed to growing commercial and residential customer base as companies and jobs have been drawn to the region. As we highlighted previously, industrial demand could be worth monitoring; although YTD sales were up (0.5%), 3Q was down (0.6%) – management highlighted oil and gas price constraints, strong dollar, weak global growth."

—Shahriar Pourreza, Guggenheim Partners
Dec. 17, 2014